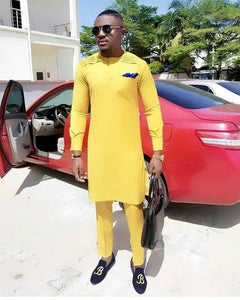 This clothing is originally hand made.
It is perfect for all your African themed events.
If you want to stand out as the groom for the day, this is for you.
If you want your groomsmen to look great on your day, this is for you.
The fabric used for this clothing is of 100% cotton and lasts longer.
The threading for the embroidery is of 100% cotton and does not fade.
The embroidery is of high quality, very detailed and professionally made.
The sizes available are XS, S, M, L, XL, XXL, XXXL.
It comes in a pair, consisting of a top/shirt and pants/trousers.
It also comes with a third piece for 3 piece suits upon request.
It is made to be versatile, suitable for all occasions and personalities.
It is a clothing for the executive, the priest, the free-spirited, the root man.
This clothing does not discriminate, it is for everybody.
You can request this African suit in any color of your choice.
You can request a bulk purchase for your wedding and other events.
You can request a wholesale order to satisfy your needs.
All our items are best priced for their quality, giving value for money.
All our items have super fast shipping and reach you in a few days.
Order your piece NOW!!!
The Yellow Suit. African Clothing for Men. African Wedding Attire. Shirt and Pants. Dashiki. Ankara. destined to impress, and priced at only
$119.00
, for a limited time.
Inventory Last Updated: Nov 29, 2023